Automatic Shrink Sleeve Labeling Machine
SVL-400
Stable Capacity: 24000BPH
Features of Labeling Machine:
This machine uses large quantities of aluminum and high strength, the corrosion-resistant stainless steel so that the overall structure of the machine is more durable and its performance is more modular, user-friendly design makes the adjustments more easily and change style much simpler. Using the man-machine interface In the control system, which is easy to learn and understand.
Sleeve Labelling Machine is custom built to meet the exacting demands of manufacturers and suppliers. It can be used stand-alone or integrated in-line and matching filling equipment speeds.
It is built upon a framework of seam welded, food-grade stainless steel sections. This solid foundation keeps movement and vibration to an absolute minimum to ensure consistent, accurate labeling.
Unit cutter head plane design in China which apply to the container of ∮30 mm—∮130 mm. you never need to change or debug it. It also has a unique light touch human-machine screen, which means, auto search original location as well as safety and convenience which is ahead of other congener products.
Double shrinking label feed plane, the reasonable height which is convenient to fix the label; a micro-computer auto figure which avoids enactment and adjustment. you only need to press it lightly, the label will detect and locate automatically. The change of label is quick and convenient, besides, the cut place is absolutely exact.
The newly designed cutter stepper motor which a speed is high, the action is exact, the cut is in order and the shrinking is beautiful. This design cooperates with the label synchronized location structure to enable the precision of cut location within 1mm.
Applicable Varieties for Trapping Label:
With a breakthrough in the traditional technology of casting labels. The equipment can integrate three to four trapping label machine varieties into one.
Machine Parameter:
Electrical Appliance Configuration Specification:
The electrical appliance adopted by this type of trapping label are all imported configurations, besides, it adopts the high—velocity positioning module imported servo motor, servo driver, servo controller, and fully-automatic adjustment as humanized operation.
Machine Auxiliary:
1. Shrink Tunnel
Introduction:
It is easy to adjust and maintain. It has an even shrinking. The distribution of the low-pressure steam drum and spouting way of steam are uniform and designed with a seamless tube. The nozzle is divided to be adjustable three segments and the height, position, and steam output of every segment can be adjusted respectively so as to gain the perfect shrinking effect. The whole machine is made of stainless steel with heat preservation, which not only saves energy but also complies with the international safety standard. The stainless steel defrosting tray collects condensed water.
1. Steam Generator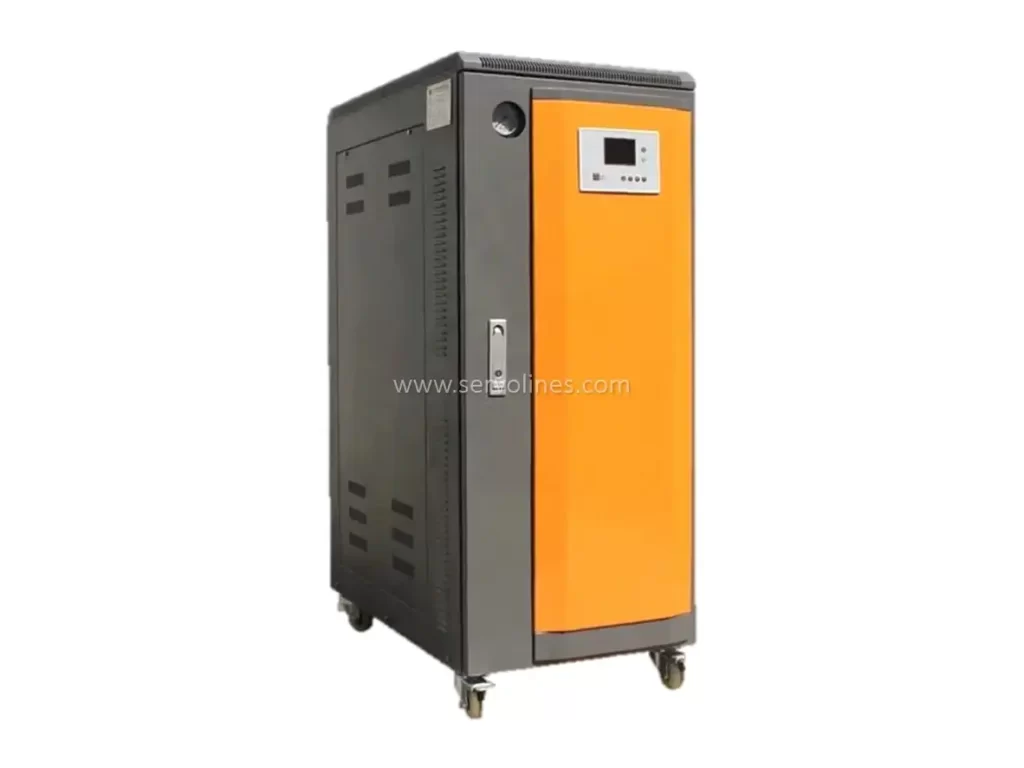 Introduction:
The water is fed into the series of wholly automatic electrical heating generators by a high-pressure potential vortex pump made of copper with short water-supply time and durable service. A floating ball for liquid level is fixed in the water tank to automatically control the water inlet. The Working system is full-automatically controlled. After connecting the water supply and power supply for 5 minutes or so, it can output the steam continuously with high working efficiency.